Run out of just the FAST Shampoo?
If you have run out of Fortified Amino Scalp Therapy (FAST) shampoo then you can buy it by itself. Expiry MAY2020
Regular use of FAST infuses the hair with everything required to stimulate and maintain a hyper-accelerated rate of hair growth. Most people will notice quicker growth in 3-4 weeks! F.A.S.T is a shampoo and conditioner system that works in combination to accelerate your hair growth up to 99% faster.
F.A.S.T hair growth accelerator combination shampoo and conditioner will also leave your hair noticeably silky soft.
In a nut shell: FAST contains the Optimum ingredients for Healthy Hair Growth. If your hair grows 1 inch in a month, then you can expect your hair to grow approximately 2 inches in a month using FAST. You need to use FAST for at least one month before you start seeing noticeable results. You will also notice your hair becoming incredibly silky and smooth; which we believe is reason enough to use F.A.S.T!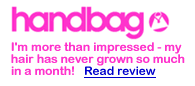 Extensive information on this product is available on the F.A.S.T web site.
What you get :
360ml / 12oz Fast Hair Growth Shampoo ONLY (4-6 weeks supply)
Please note that the FAST shampoo and conditioner must be used together for optimum results! You may not witness any visible results by using the shampoo and conditioner in isolation.