Andre Extra Strength Depilatory Cream Hair Remover for Men
SKU:

ANDRE-ESHR

UPC:

MPN:

ANDRE-ESHR

Weight:

0.24 KGS

Shipping:

Calculated at Checkout
Bulk discount rates
Below are the available bulk discount rates for each individual item when you purchase a certain amount
| | |
| --- | --- |
| Buy 2 - 2 | and get 10% off |
| Buy 4 or above | and get 15% off |
Frequently bought together:
Description
Andre Extra Strength Hair Remover
Best Seller!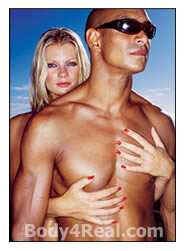 FACT: Around 70% of men are now regularly removing body hair. Never before has male grooming been so popular!
At last there's a hair remover cream that is strong enough to remove tough male body hair. If you don't want to shave or wax, this is a great alternative.
Whether you are a serious sportsman wanting that split-second advantage, a body builder needing that muscle definition or simply like that lean, sleek finish of a hairless body, Andre is the answer.
With Andre Extra Strength Hair Remover you will never have to worry about razor rash or ingrown hairs from waxing again. Andre Extra Strength Hair Remover is the fastest, gentlest way to bare up all year long.
How it Works: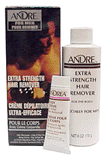 Andre is a depilatory which basically melts the hair just beneath the skin's surface, so you can expect to remain hair free for about 3 weeks. The advantage of using a depilatory is:
Regrowth is smooth and not coarse as with shaving.
Depilatories are pain free and easy to use.
Hair regrowth takes longer than with shaving.
The benefits of using Andre Extra Strength Hair Remover:
Non-irritating;
No unpleasant odour;
Andre is formulated to take off even the most stubborn hair;
Andre Extra Strength Hair Remover is fast, painless and easy to use.
Hair removal depilatories are not 100% natural, and are therefore not suitable for use on the face or sensitive areas (like the genitals). Andre hair remover is generally great for use on the: chest, back, arms and legs.
Andre hair remover comes with a soothing post hair removal body creme. The body creme moisturiser contains allantoin, marigold extract, collagen, and jojoba. It helps restore skin's pH balance as it soothes your skin and contains no perfume so it won't irritate your skin.
Contains: 6 oz Andre Hair Remover + 0.5 oz Body Creme.
Brief Instructions for Use: Read all instructions before starting. Always do a preliminary patch test to assess skin senstivity. Apply Andre, wait 10 minutes. Wipe off with a damp tissue or cotton ball. Smooth on the Body Creme.
To reduce hair growth, use Andre in conjunction with Kalo hair inhibitor lotion.
View All
Close
1 Review
This is the best so far, removed all hairs and still ok 1 week on. I would recommend this to try.
View All
Close