BaKblade 2.0 – the Ultimate DIY Back & Body Shaver
SKU:

BAKBL-2VERSION

UPC:

0712038330515

MPN:

Weight:

0.25 KGS

Shipping:

Calculated at Checkout
Frequently bought together:
Description
BaKblade 2.0 DIY Back Hair Shaver
The BakBlade 2.0 is a new generation back hair shaver. It's the natural evolution of the incredible original version, which became a worldwide sensation in 2016. The 2.0 features a folding handle to make it easy to travel with and the new shaving head incorporates a dual blade design, making it even more efficient at removing hair.
The baKblade 2.0 is a best selling back hair razor which has been designed to remove back and body hair in the comfort of your own home. Each baKblade 2.0 comes with specially designed baKblade blades which have been designed to give a smooth and safe shave. You will find 2 blades are fitted onto the baKblade ready to use. By having 2 sets of blades, you can be ensured of maximum performance.
The baKblade 2.0 comes with a foldable handle which when extended measures approximately 39cm (folds in half to 20cm).
Use the baKblade 2.0 to shave you back, shoulders and lower back. No water, creams or foam are required.
What you get:
1X BaKblade 2.0 fitted with blades
This back shaver lets you tackle those difficult-to-reach, hairy areas without any help. BaKblade is back-scratcher-like in its design, helping you reach every corner of your body. Unlike conventional face razors, this one adapts to your body. Its contour adjusts to yours, so there's lighter, gentler contact between your skin and the blade. You could even shave without water and still get a smooth finish. Replacement BaKblade 2.0 blades are also available.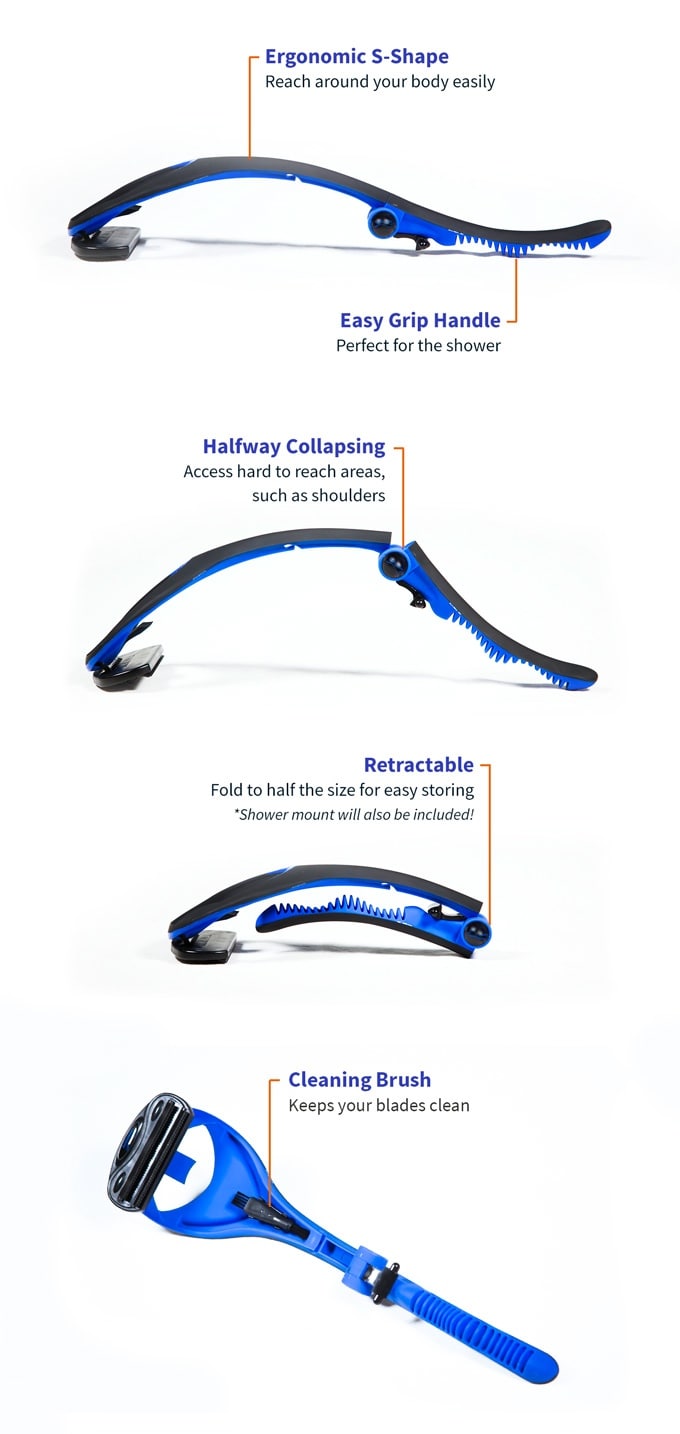 Whether you are wet shaving or dry shaving, we highly recommend using SKINtastic cream either before shaving (to provide a protective layer between your skin and the shaver blades) or after shaving to soothe and heal your skin. If you suffer from shaving bumps or ingrown hairs then we would also recommend you use Power Shave immediately after shaving your back. You can purchase either product at a deeply discounted price when you purchase it along with your BaKblade.


The original BaKblade is also available for purchase.
View All
Close
2 Reviews
Was unsure if this product would actually work, but it is fantastic. Easy to use and works extremely well. One of the best things I have purchased!

The order process was very quick and communication from customer service could not be faulted. My parcel arrived within 48Hrs and was well packaged when received. On removal of the delivery packaging you could see that thought had been put into this item, it was sturdy and ergonomically shaped. As always very keen to jump in and see how the new product preforms, I found that you need to take your time and use a mirror to view your progress. That said the item removed my back fuzz in a jiffy. When I detached the shaving head and used it as a palm shaver the results were very impressive. AND not one cut or nick!!! It has now been three weeks since I shaved and a stubble has just began to appear, time to get the shaver out. So from someone who was skeptical I am a firm believer, monies well spent. P.S Apparently you get up to six shave with the first set of blades, I am not hanging around to find out, let me get some spare blades now as I do not want to be half way through a shave and find I need them.
View All
Close