Bikini Plus Razor
SKU:

BPR1-PINK

UPC:

MPN:

BPR1-PINK

Weight:

0.01 KGS

Minimum Purchase:

1 unit

Shipping:

Calculated at Checkout
Bulk discount rates
Below are the available bulk discount rates for each individual item when you purchase a certain amount
| | |
| --- | --- |
| Buy 2 - 3 | and get 10% off |
| Buy 4 or above | and get 15% off |
Frequently bought together:
Description
Bikini Plus Razor: Shaving difficult to reach areas is easy using a curved blade Razor!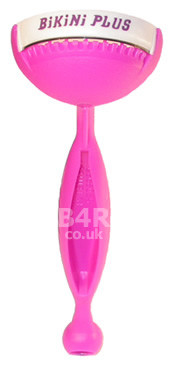 The World's First Curved Blade Razor For Men & Women (Available in pink only)
Features:
Bikini Plus: The World's First Curved Blade Razor
Designed Especially For Bikini Area, Underarms, Ankles and Knees
Cryogenically Tempered Blade Can Last Months!
More Gentle On Your Skin Than Conventional Razors
A great product to get a great Bikini Line...
What is it?
The Bikini Plus is a single blade razor that is curved to match the contours of hard-to-shave places like
underarms, knees, ankles, and of course, the bikini area. Not only is the blade curved but it's cryogenically tempered, enabling it to last far longer than any other standard or typical disposable razor. And although it too is a disposable razor, months can go by before you actually need to replace it.
Cryogenically Tempered?
The cryogenic treatment consists of subjecting the blade to a temperature of minus 270 degrees below zero for a 24 hour period and then bringing it back to ambient or room temperature. In a nut shell the cryogenic process just slows the molecules to a virtual stop and realigns the molecular structure of the existing molecular bars which connect to each other.
There is so much stress on the stainless steel from the rough grinding, finish grinding, honing, heat treating, stropping, stretching, spattering, breaking, and hole-punching necessary to create a blade that the metal has physically broken down before it is even used for the first time.
When a blade is cryogenically treated after all this stress is induced it returns the stainless steel back to its original molecular structure. The stress is removed and the steel regains the many attributes it was originally selected for. That's basically why it lasts so long.
Do men use the Bikini Plus Razor?
Bikini Plus! Don't let the name fool you, men can use it too on all the same places a woman can, and it's perfectly contoured for shaving the neck. We recommend using Total Shaving Solution (TSS) shaving oil in conjunction with the Bikini Plus.The Bikini Plus works particularly well if you are sporting more than a day's growth.
Think it's too expensive?
It costs more than most mass produced razors, but you have to remember that the Bikini Plus razor has a unique curved blade which is created using an intricate and expensive cryogenic process. To our knowledge, the Bikini Plus is the only curved blade razor in the world. Additionally, the cryogenically tempered blade lasts much longer than a conventional disposable razor.
Ultimately, you have to try it to believe it!
View All
Close