FAST Scalp Tonic For Dry Hair 120ml / 4oz
This invigorating and refreshing Scalp Tonic contains a high percentage of essentail amino acids and herbal extracts that help promote healthy, longer and stronger looking hair for men and women. F.A.S.T. Scalp Tonic is the final step in the F.A.S.T. hair care line providing maximum benefits for fast and healthy looking hair growth.
Directions:
After shampooing, towel dry hair. Shake well. Apply 5-7 drops of the tonic to the targeted area. Avoid overflow. Place fingertips firmly on scalp and moving your scalp and moving you scalp with fingertips, massage the treated areas for one minute (AVOID RUBBING). Style hair as usual. Scalp tonic should be applied a second time later in the day.
We highly recommend using this after using FAST shampoo and conditioner to maximise your rate of hair growth
As we are the official and exclusive UK importers of FAST, we always maintain fresh stock with long expiry dates.
Note: FAST will only affect the hair on your head; it will not affect facial or body hair. Note: FAST is not for hair loss -it works only to make your existing hair grow as fast as possible.
Size: 120ml / 4oz.
Does it really work?
Yes! It really works. FAST works by feeding the hair with essential nutrients, aminos and proteins not found in regular shampoos. This special blend provides essential nutrition to hair, making hair grow as fast and as healthy as possible. Note: FAST will only affect the hair on your head; it will not affect facial or body hair.
Got any questions?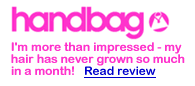 Why not hop on over to Facebook and ask your question. While you're there, please Like our page... Thank you!



60 DAY GUARANTEE: Try FAST and if for any reason you are dissatisfied then simply send it back to us for a full refund!
Please note that FAST is NOT a hair loss product. If you do suffer from hair loss then click the Hair Loss menu option above and view the Nisim New Hair Biofactors range.