Hair No More Hair Growth Inhibitor Spray by Skin Doctors
SKU:

SKINDOC-INHIBITOR

UPC:

MPN:

SKINDOC-INHIBITOR

Weight:

0.16 KGS

Shipping:

Calculated at Checkout
Bulk discount rates
Below are the available bulk discount rates for each individual item when you purchase a certain amount
| | |
| --- | --- |
| Buy 2 or above | and get 10% off |
Frequently bought together:
Description
Hair No More Hair Growth Inhibitor Spray
At last! A fast, easy way to prevent hair regrowth: Hair No More Inhibitor Spray
Suitable for use after all types of hair removal, Hair No More Inhibitor Spray is an opaque topical spray solution made from a comprehensive formula containing exotic plant enzymes that assist is slowing down the hair follicle regrowth whilst having a softening, refreshing and soothing effect on the skin.
Long-term hair removal in a bottle
Gentle on the skin even after shaving or waxing, Hair No More Inhibitor Spray has been scientifically developed to get into the pores of the skin and saturate the the hair bulb. The liquid starves the hair at the root and prevents hair cells from germinating to slow down regrowth so that hair doesn't appear for weeks, even months at a time. Over time it can also change the appearance of dark thick coarse hair to softer, finer, lighter hair, which resembles that of a baby. In many cases, after long term use, the hair doesn't appear again - leaving you smooth and hair-free!
Skin Doctors 2 Step Kit product data sheet (Hair growth inhibitor is part of this kit)
No side effects
Except for the slowed appearance of hair growth and softer skin. Easily applied, the product is suitable for use between all types of hair removal treatments to prevent regrowth. There's no pain, no effort, no preparation and there's no skin irritation.
When used in conjunction with Hair No More depilatory cream, this unique formula is applied in two simple steps:
Step 1
Our delicate cream instantly and painlessly removes unwanted hair from the face or body, even the darkest, coarsest hair that may have been causing you a lifetime of embarrassment. The new powerful formula now works even faster.
Step 2
This scientifically developed hair growth inhibitor spray can help retard hair regrowth. Hair that does grow back may be finer, sparser, and lighter than before... in many cases, with long term use, the hair stops growing altogether.
For best results, a generous amount of Hair No More Inhibitor Spray should be sprayed onto epilated areas. So effective, beauticians are now asking:"Could this be the end of salon treatments?"
No more waxing, No more laser, No more electrolysis, No more pain...Discover Hair No More Inhibitor Spray.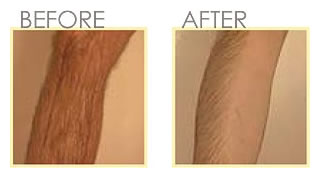 Contents:
120ml bottle of Skin Doctors hair growth inhibitor.
View All
Close