Just For Men Hair Colour
SKU:

J4MHAIR

UPC:

MPN:

J4MHAIR

Weight:

0.12 KGS

Shipping:

Calculated at Checkout
Bulk discount rates
Below are the available bulk discount rates for each individual item when you purchase a certain amount
| | |
| --- | --- |
| Buy 2 - 3 | and get 5% off |
| Buy 4 - 6 | and get 10% off |
Frequently bought together:
Description
Just For Men Hair Colour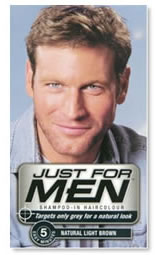 Just for Men targets only grey hair, Replacing it with subtle tones for a natural look. Just for Men works in only 5 minutes. And, it's as easy as shampooing.
Just For Men is good to your hair. It has no harsh ammonia. Special conditioners help protect hair while you colour. It has a unique complex of Vitamin E, protein, chamomile and aloe for thicker, healthier looking hair that's easier to control. We highly recommend using the Nisim Biofactors shampoo in conjunction with Just For Men to ensure is kept healthy and clean.
Because Men Are Different
Women's haircolour is designed to be dramatic, to help a woman get noticed. Just For Men helps a man look his natural best, without calling attention to his hair. We have 9 natural-looking shades, each carefully matched to your natural haircolour. Backed by over three decades of research and proven over 50 million times.
View Just For Men Hair Colour Instructions
Hair Colour Chart
As Just for Men only targets grey hair it's important to replace the grey with subtle tones that match your own natural colour. It takes only 5 minutes and the ammonia free formula lasts up to 6 weeks, until the grey grows out.
If you're not sure which colour to choose then we recommend you choose a slightly lighter colour rather than a slightly darker colour. A lighter colour is more likely to blend with your natural hair colour.
Up to
3 applications per box.
Frequently Asked Questions:
Original Formula is now called Shampoo-In Color. New look, same great gray-free results. Still 5 easy minutes. Now with keratin, olive oil and vitamin E for healthier looking hair.
What is Just For Men® Shampoo-In Color?
Just For Men Shampoo-In Color is an easy and fast shampoo-in haircolor that restores original color for professional results. It only takes 5 minutes.
How is Just For Men® Shampoo-In Color different from Just For Men® Easy Comb-In Color®?
Both are easy to use and deliver natural-looking results. Just For Men Shampoo-In Color comes with 2 bottles (color developer and color base) that need to be mixed together and then applied to hair. Once applied, it only takes five easy minutes.
With Just For Men Easy Comb-In Color, you do not need to mix any components. Easy Comb-In Color comes with an easy no-mix comb-in applicator and works in 10 minutes.
Will Just for Men Shampoo-In Color® damage my hair?
Just For Men Shampoo-In Color is designed to be gentle on hair. It does not contain damaging ammonia.
Will Just For Men Shampoo-In Color® give me natural looking results?
Yes, as long as you choose a shade close to your natural color and follow the usage instructions.
Your recommended shade depends on your natural hair color and the amount of gray you have. When in doubt, go a shade lighter.
How do I best apply the product?
Just For Men Shampoo-In Color is easy to use. Just lather in, wait 5 minutes and shampoo out.
Do you apply Just For Men Shampoo-In Color® before or after a haircut?
You can apply it anytime. It may be easier to apply after a fresh haircut.
View All
Close