Moom Wax Kit for Women
SKU:

MMKIT

UPC:

MPN:

MMKIT

Weight:

0.55 KGS

Shipping:

Calculated at Checkout
Frequently bought together:
Description
MOOM 100% Natural Hair Remover + Quality Strips & Spatula

"I was absolutely amazed at how well this works. Being very sceptical of the wonderful picture painted by the copywriting, I thought I'd give it a try anyway. You now have a customer for life with this product. My husband is using it too and is well impressed. Great stuff!" User feedback received August 2004.
MOOM natural hair remover combines the effectiveness of wax with the gentleness of sugaring, while also eliminating the need for pre/post treatment lotions!
With MOOM hair removal is a pleasant experience, performed with ease of mind knowing that you are doing something healthy for your skin. If you have been betrayed by the empty promises of other hair removers isn't it time you tried a real solution?
You get no gimmicks with MOOM hair remover, it is simply the gentlest, most effective and most pleasant sugaring / waxing product available. And it's 100% NATURAL!
How to Use:
Moom hair remover can be used on the face when it's warm (room temperature). For all other areas, gently heat it by placing it in a microwave or sauce pan of hot water on a stove. Even though it takes a little more effort than using a no heat hair remover, it is well worth the effort!
Why Use Moom?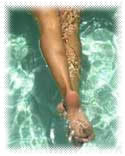 View video about how Moom organic hair remover works.
MOOM hair remover offers the benefits of long term depilation while diminshing the pain and discomfort of traditional waxing and other hair removal methods.
MOOM has taken the ancient art of hair removal sugaring & revolutionized it. Adding only the highest quality beneficial ingredients.
MOOM hair remover does not damage the skin, thus there is no need for after treatment lotions to repair the skin.
MOOM is specifically formulated to stick to the hair, not the skin, so hair slides out without tearing at the skin. This means it is a lot less painful than normal waxing products.
The Tea Tree Oil in MOOM hair remover helps to lubricate the skin and prevent drying. It is also excellent for delicate skin. MOOM is effective for removing even the most stubborn coarse hair (many men use Moom). If you make a mistake when applying MOOM, just rinse it off and apply it again.
The premium ingredients, each carefully selected for its unique properties, act as skin enhancers.
MOOM contains ONLY:
Chamomile
Chamomile is an ancient herb renowned for its therapeutic and beneficial attributes. The process used in making MOOM captures the antiseptic, antibacterial, anti-inflammatory, and soothing qualities of this wonder herb.
Lemon Juice
Lemon juice further enhances these antiseptic and anti-bacterial benefits.
Tea Tree Oil
Tea tree oil is a mild local anesthetic, renowned for it's healing and antiseptic properties. It is also very effective in treating acne and blemishes.
Sugar & Water
Sugar is a natural preservative.
Moom is not recommended for use on the following areas:
Nipples, Male Genitals, Inside nostrils, ears and eye lids.
Further information:
What do you get?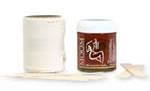 Moom 6oz Starter Kit
Applicators & various size strips
Top Tips
While pre and post lotions are not strictly required when using Moom, we do recommend using a medicated talc before waxing, to keep the skin completely dry and moist free. A light layer of talc will also help you apply the wax in the correct area, thereby giving you the best results. After waxing, it is best to apply a skin repairing treatment. We highly recommend using the SKINtastic Moisturising Cream after waxing to soothe and repair the skin. SKINtastic is a paraben-free, natural, cream which contains the highly effective Grapeseed oil extract, a very light and delicate natural oil that is now recognised as a very potent anti oxidant* (in fact, Grape Seed Oil has up to 15,000 times more anti-oxidant value than Vitamin E), it is also a known anti-carcinogen (anti ageing element).
View All
Close
1 Review
I bought this wax to use for Brazilians. This was the first time I'd ever waxed myself and was a bit sceptical. However, the first time I used this it removed ALL hair and was not painful at all. It only needs 10-20 seconds in the microwave and it's so easy to use. The strips can be soaked in warm water and used again. It's mess free and leaves skin so smooth afterwards. I can't believe it's taken me years to discover this. Will be using again and again as it's so easy!
View All
Close