Tangle Teezer - Compact Detangling Hairbrush -
FREE U.K Shipping
Following on from the success of the original Tangle Teezer, comes the new compact version. This smaller version is great to carry around and comes with its own protective cover. The Tangle Teezer has revolutionised hair brushes. A seemingly simple device works wonders on detangling hair on both adults and kids. A must have product for painlessly removing tangles from wet or dry hair. All hair types, men, women and children can benefit from this daily use brush. The Tangle Teezer helps to reduce hair breakage, splitting, and damage often caused by mistreating your hair.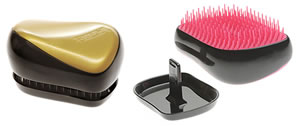 Approximate dimensions: 105mm(D) x 85mm(W) x 50mm(H).
The Tangle Teezer Compact is currently available in 2 colours - (i) Black or (ii) Black and Pink. (please select your colour when adding the product to the cart).
How it works:
Tangle Teezer is the first of a new generation of detangling hairbrushes! Upon picking up Tangle Teezer you will notice the teeth aren't like that of an ordinary brush which is where the hair genius comes in. The unique configuration of specifically designed teeth flex just the right amount to detangle and help smooth the hair's cuticle which in turn protects the inner cortex from damage.
Using the Tangle Teezer will ensure your hair will appear more lustrous by minimising cuticle damage which in turn will help colour last and reduce the risk of fading. The hair shaft is also better prepared for the onslaught of damaging heat from styling tools. That's why we like to call it first aid for hair.