Tend Skin Solution 4oz (118ml)
Do you suffer from razor rash, razor bumps or ingrown hairs from shaving, waxing or electrolysis? If the answer is "Yes" then Tend Skin is the ideal treatment.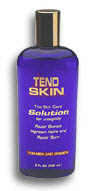 For women, Tend Skin works amazingly well on bikini lines, underarms, legs and faces. For men, it's ideal for use on the face and neck. If you find Tendskin too harsh on the skin, consider using one the following milder (but equally effective products): Priva Power Shave or Kalo Ingrown Hair Spray.
Tend Skin is a mild, exfoliating solution to prevent redness and rashes - it just leaves your skin smooth and clear. Especially formulated to combat ingrown hairs and razor bumps (Pseudofolliculitis barbae, PFB).
It's equally effective at combating ingrown hairs and all post hair removal irritations for both men and women.
Directions for MEN
For men suffering with razor rash or razor bumps (Pseudofolliculitis barbae or PFB), apply Tend Skin twice per day to begin with. Apply in the morning after shaving and once again in the evening just before going to bed. After the skin condition disappears, you should apply it daily to maintain clear skin.
To help alleviate the problem, a fresh sharp razor should be used for shaving. This prevents bacterial build up on the blades being transmitted into the pores of your skin. If you have problem skin always use a clean razor. As it's a thin liquid solution, apply it to your skin using cotton wool. Make sure your skin is completely clean and void of shaving oils and preparations, these can interfere with Tend Skin and prevent it from reaching deep into the pores of the skin.
If you have unsightly razor burn or razor bumps around your neck, or redness from wearing a tie, apply it immediately after shaving. Daily application will prevent these problems.
Directions for WOMEN
Women suffer from numerous skin irritations related to body hair removal. Tend Skin can be used to treat a variety of skin irritations:
Do you suffer from unsightly ingrown hairs?
Simply apply Tend Skin to the existing ingrown hairs over a few days and watch them disappear. DO NOT attempt to removed ingrown hairs using a tweezer. Skin damage caused by tweezing can increase the formation of new ingrown hairs!
Do you suffer skin irritations after electrolysis?
Apply Tend Skin to your skin before electrolysis to help protect it from irritations. It should also be applied immediately after electrolysis to reduce any burning sensations and reduce redness. These conditions are usually alleviated in minutes. Applying it several times per week will reduce the formation of new ingrown hairs.
Do you suffer from post hair removal irritations after waxing?
We recommend applying Tend Skin before waxing to ease the irritation associated with hair removal from the root. After waxing, re-apply to reduce redness within minutes. It will also stop the formation of ingrown hairs.
How to apply Tend Skin?
It should be applied using cotton wool or with the fingertips. As it is a liquid solution, care should be taken when applying it to facial areas.
What skin conditions can be treated?
Razor Bumps (pseudofolliculitis barbae, pronounced "soo-doe-fol-li-cu-li'-tis): Razor bumps are created when the growing beard hairs exit the skin, curl over, and burrow into the adjacent skin, resulting in an unsightly bump. Razor bumps form on the beard areas of men-mostly Black men and about 15-20% of Caucasian men. Occurrence varies with nationality.
Ingrown Hairs Ingrown hairs form when hairs, growing back after shaving, waxing, electrolysis, or other hair removal method, and fail to grow out of the skin. The hairs curl over inside the follicles under the skin (just like the "razor bump" hairs curl above the skin). By curling, then creates and unsightly bump.
PLEASE NOTE:
Tend Skin has exfoliating properties that may cause excessive exfoliation resulting in a burning and possible discoloration of the skin if used with other exfoliating products. Therefore, do not use it together with other skin products containing: Alpha hydroxy acids Retin-A Abrasive scrubs or loofahs Benzoyl Peroxides Alcohol. Also, people with a true allergy to aspirin should not use this product but should instead consider Kalo Ingrown Hair Spray and the SKINtastic Moisturising Cream.
What you get:
Other ways to Help your Skin
If you have problematic or sensitive skin, you will really benefit from the fantastic SKINtastic Moisturising Cream. SKINtastic is a truly unique skincare product, with absolutely the best ingredients for your skin at a really affordable price. Perfect for use on the delicate facial areas, but also superb as a healing moisturiser. The secret to this cream is its high concentration of Grape Seed Oil which is 15,000 times more effective than Vitamin E! We highly recommend the SKINtastic to both men and women - it's quite simply a must have, no nonsense product for people who care about their skin.