Groom Mate Platinum XL Ear and Nose/Nasal Hair Trimmer
SKU:

GMATE-PLATINUM

UPC:

MPN:

GMATE-PLATINUM

Weight:

0.06 KGS

Shipping:

Calculated at Checkout
Bulk discount rates
Below are the available bulk discount rates for each individual item when you purchase a certain amount
| | |
| --- | --- |
| Buy 2 or above | and get 10% off |
Frequently bought together:
Description
Groom Mate Platinum XL Nose/Nasal & Ear Hair Trimmer - No Battery Required
Did you know that adult nasal hair grows at a rate of approximately 0.35 mm per day? That's over 1 cm per month. Most people attempt to trim away visible nose hair with a pair of scissors - a very dangerous activity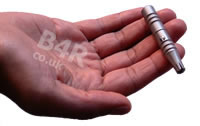 indeed!
Groom Mate have come to the rescue with a very high quality range of battery-free nose and ear hair trimmers. Most importantly, their nasal hair trimmers are completely painless, safe to use and will not rust. The Groom Mate Platinum XL is a high quality trimmer made from 100% stainless steel, made in the USA. It works without batteries and is small and compact, making it perfect for storage and travel. By the way, "XL" does NOT stand for extra large! This Groom Mate is only 6cm (2.6 inches) long. XL is short for excel - to show superiority or surpass others. Suitable for use by both men and women. Voted: one of the "top 25 Beauty Products for Men" by The Times.
You instantly feel the quality of this beautifully engineered trimmer as soon as you pick it up!
Features: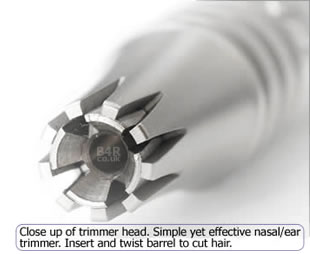 Only 6cm (2.6inches) in length - can be carried discretely in a handbag or pocket
Made in the USA from the finest corrosion-proof stainless-steel
Simple twist to trim design
Eco-friendly - works without batteries
Built from high grade materials - Engineered to last a lifetime
Gentle painless trimming
Manually Operated / Works without batteries, motors or cords.
Simply hold the top cylinder steady while twisting the bottom cylinder.
Safe & Gentle
Easy To Use & Easy To Clean
Solid Stainless Steel
Guaranteed to Stay Sharp Forever
Made in the USA
How to use the Groom Mate Platinum
The Platinum XL features two hand operation: simply rotate the bottom handle back and forth for safe, gentle hair removal. Simply insert the head of the trimmer into your nostril or ear and twist body to activate the cutters. You only need to insert the head of the trimmer half a centimeter up your nostril!. Ear hair is more difficult to remove because it can grow in many different areas. You have to manoeuvre the head of the Platinum XL into a position that will allow the ear hair to enter the hair catcher on the front of the trimmer. After use, brush away hairs and rinse the trimmer if necessary. For more thorough cleaning, the Groom Mate can be unscrewed and then reassembled.
View All
Close
8 Reviews
Best trimmer i've used, battery ones around the same price just didnt have enough power or sharpness. Product shipped quickly, website easy to use. Very happy.

good quality and works fine - goodbye batteries

Excellent. Does the job, built to last, no risk of annoying electrical failure or batteries to worry about.

Battery Free Nose Trimmer

If Used Correctly, This Is The Best Trimmer I Have Ever Had, You Need To Rotate The Trimmer Backwards And Forwards, As Per Instructions, To Do The Cutting, If You Just Rotate Once And Pull It Becomes A Painful Nose Hair Plucker.

I've had loads of battery ear/nose hair trimmers over the years and they all worked reasonably well but after a while they just vibrated themselves apart. This trimmer has a good feel in the hand and appears to be built like a tank. When I first tried it I assumed that it was not working as. I could feel nothing happening but then afterwards I found that it had done the job exceedingly well. Sometimes the simple approach is the best. I would thoroughly recommend.

does what it says on the tin

This is a good wee piece of kit, cuts hairs cleanly and does all it says it will. Very good thing to have given it requires no batteries. I did pinch the inside of my nose once but that was because i was seeing how close in i could get hairs cut. Obviously went a bit too close - i'm still learning! What i have noticed is when you use it the trimmed hairs remaining in your nostrils feel very sharp for a day or 2. Not really a flaw with the product, more a slight discomfort as a result. Dont let that put you off though, it doesn't last long and the benefits far outweight this downside.

Having searched in vain for a trimmer that does the job. I bought this. Does what it says on the tin.

Best nasal / ear hair trimmer ever

Small, solid, battery-free...You'll never have to buy another trimmer in your life. I have purchased three of them in the last month to present family and friends with.
View All
Close