Groom Mate Platinum XL Nose/Nasal & Ear Hair Trimmer - No Battery Required -
Did you know that adult nasal hair grows at a rate of approximately 0.35 mm per day? That's over 1 cm per month. Most people attempt to trim away visible nose hair with a pair of scissors - a very dangerous activity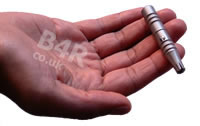 indeed!
Groom Mate have come to the rescue with a very high quality range of battery-free nose and ear hair trimmers. Most importantly, their nasal hair trimmers are completely painless, safe to use and will not rust. The Groom Mate Platinum XL is a high quality trimmer made from 100% stainless steel, made in the USA. It works without batteries and is small and compact, making it perfect for storage and travel. By the way, "XL" does NOT stand for extra large! This Groom Mate is only 6cm (2.6 inches) long. XL is short for excel - to show superiority or surpass others. Suitable for use by both men and women. Voted: one of the "top 25 Beauty Products for Men" by The Times. Also Recommended by Lee Kynaston, Men's Health Grooming Editor
Read 150+ Amazon reviews on the excellent Platinum XL by Groom Mate
Features: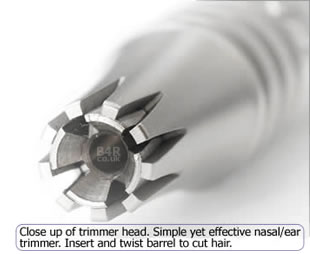 Only 6cm (2.6inches) in length - can be carried discretely in a handbag or pocket
Made in the USA from the finest corrosion-proof stainless-steel
Simple twist to trim design
Eco-friendly - works without batteries
Built from high grade materials - Engineered to last a lifetime
Gentle painless trimming
How to use the Groom Mate Platinum
The Platinum XL features two hand operation: simply rotate the bottom handle back and forth for safe, gentle hair removal. Simply insert the head of the trimmer into your nostril or ear and twist body to activate the cutters. You only need to insert the head of the trimmer half a centimeter up your nostril!. Ear hair is more difficult to remove because it can grow in many different areas. You have to manoeuvre the head of the Platinum XL into a position that will allow the ear hair to enter the hair catcher on the front of the trimmer. After use, brush away hairs and rinse the trimmer if necessary. For more thorough cleaning, the Groom Mate can be unscrewed and then reassembled.